Sometimes I take my camera outside and sometimes I have the opportunity to take a nice photograph and sometimes the photograph turns out nicely. Once in a while, I use the new photograph for my computer's desktop background. That involves creating an image that is the same as my computer's screen resolution because if I just put the image up without making one in the right size, it will be squashed to fit.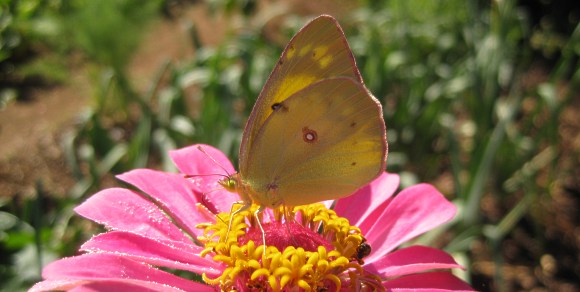 Today I made some extra images of this photograph in the top 5 screen resolution sizes to share. If you would like this image for your computer's wallpaper, select the one closest to your computer's screen resolution.
Windows Instructions
To find your resolution, right-click your desktop, choose Properties, then Settings. Look at the screen resolution number, then press Cancel.
To add one of the images as your desktop wallpaper, open the image by clicking on the link, then right-click the image and choose: Set as Desktop Background.
Orange Sulphur Wallpaper in 5 Sizes
1. 1024 x 768 – ratio: 1.33
2. 1280 x 800 – ratio: 1.60
3. 1280 x 1024 – ratio: 1.25
4. 1440 x 900 – ratio: 1.60
5. 1366 x 768 – ratio: 1.78
Oh yes, I almost forgot to mention that this butterfly is: Colias eurytheme. The common name is orange sulphur. The butterfly is on a pink zinnia and there was a tiny bee on the zinnia as well.
If you like pink and yellow, this is a pleasant image to see when you boot up the computer.
A note on the ratio. I have supplied only the top 5 resolutions, however, if your monitor's resolution is not on the list, choose from the ratios. To get the ratio, divide the width by the height. For instance to find the ratio of a resolution of 1920 x 1080 divide 1920 / 1080 and the ratio is 1.78 — try image #5 – [but the stretched image could be a bit fuzzy.]