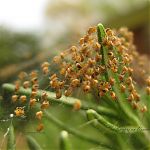 Computer wallpaper featuring just hatched spiders on a rosemary plant. This wallpaper is only available in two ratios – 1.25 and 1.6. The spider scene is shown from two views – a lot of spiders piled up on branches and fewer spiders leaving the hatching area.
What to do: [instructions based on Windows XP and older]
Find your resolution:
Right-Click your desktop: Choose Properties > Settings –look at your resolution– press Cancel
Find the resolution or display size that best fits your set-up. Choose the image below and download it, then set it as your wallpaper/desktop.
Baby Spiders Piled up on Branch Tips
Ratios and Resolution Sizes
Ratio: 1.25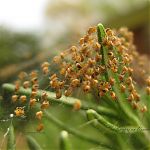 Image Size: 1280×1024
Resolutions
1280×1024
Image: Ratio 1.25
---
Ratio 1.60

Image Size: 1680×1050
Resolutions
1280×800
1440×900
1680×1050
Image: Ratio 1.60
---
---
Baby Spiders Leaving
Ratios and Resolution Sizes
Ratio: 1.25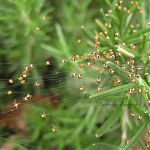 Image Size: 1280×1024
Resolutions
1280×1024
Image: Ratio 1.25
---
Ratio 1.60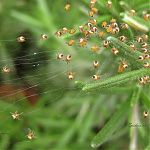 Image Size: 1680×1050
Resolutions
1280×800
1440×900
1680×1050
Image: Ratio 1.60