Yesterday the compost pile had cooled to 38 ºC (100 ºF). That is not hot enough for this experiment. I suspect that the grass clippings are too dry. This afternoon, I removed the cover. It seemed that only the damp parts of the pile were heating and the outer parts were indeed too dry. While out there, I measured the temperature and it was lower than yesterday's reading.
While the pile was uncovered, I noticed that it was steamy toward the middle and it had a fermented odor which, unfortunately, drew flies that bite. Anyway, I set out to dampen the grass clippings and that was like tossing a 15 cubit foot salad. To do it, I shifted the pile over, watering the clippings as I moved them. Then I dug a new trench around it and recovered it with plastic, and buried the edges in the trench.
Two pictures:
Taking the pile's temperature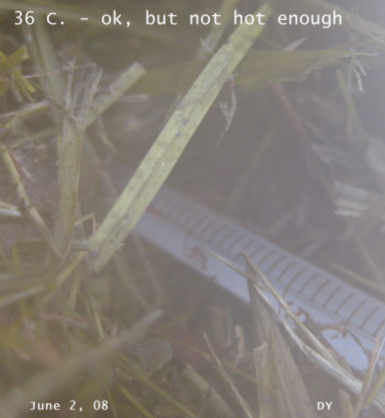 The watered and shifted pile recovered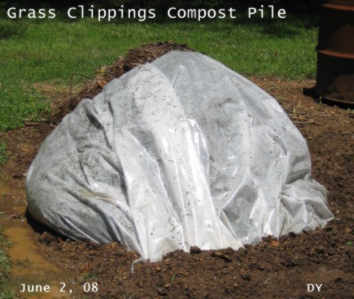 The problem with compost dampness is that neither too little water nor too much water is optimal for the fast bacterial breakdown.
In a few days, I will have to uncover the compost pile to check on it, and possibly, to turn it.
We'll see what happens next.