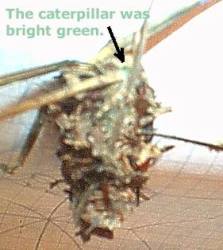 Last Saturday, April 21, I gathered leaf litter from the woods for my garden. I used a leaf rake to gather the litter. At some point in this task, I uncovered a green caterpillar. I picked it up along with leaf litter and placed it in a plastic container. After that, I continued working. Afterward, I was too tired to take a picture of the caterpillar. I will describe the caterpillar: it is without fuzz and without horns; it is bright green and has pale markings along its side. I checked on the caterpillar the next day, but again, I did not take a picture.
Two nights ago, I checked on the caterpillar and I could not find it. I know that it is bright green and simply glows against the earthy litter and I know that it would have been impossible to escape the plastic container because it has a tight fitting lid. Therefore, I started looking for a cocoon and I found it within seconds. The caterpillar attached its cocoon to a pine needle and I suppose that is the best it could have done since I did not provide a stick. It did not occur to me that it would enter the next stage so quickly and I have been very busy.
I broke and wedged a wooden skewer in the container. After attaching the skewer, I taped the pine needle to the middle of the skewer. I did this for one reason: When the moth emerges from the cocoon, it might need space to dry its wings.
Images of plastic box and cocoon: