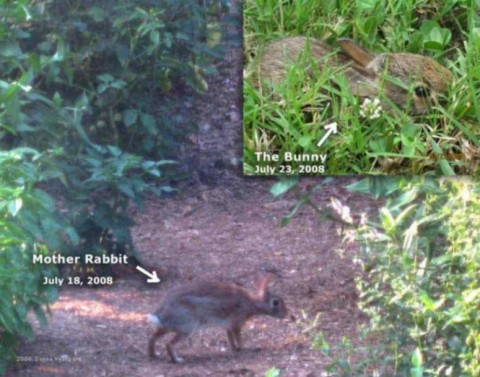 My vegetable garden is usually a home to a bunny or two. My large old mint and daylily bed is a sheltered place for a rabbit hutch (or is it a den) and it is next to food. They do not bother the vegetables, they like eating the white clover that grows in our yard.
The photograph of the mother rabbit was taken from a window in our house. The mother rabbit visits just once a day to feed to bunnies. She toddled right into the mint bed and while I did not know if there was a bunny in there or not at the time, I suspected that there might be.
A few days later I found out for certain that a bunny was living in the mint bed. I was watering the garden because it is very dry this year and the water hitting the plants nearby scared it out of the mint bed.
Later, the bunny ended up back in the mint bed and it stayed there for several days. I do not know if it is still in my garden or not. I haven't seen it in a week or more.