Rose-breasted grosbeak Pheucticus ludovicianus
About the bird: mbr-pwrc.usgs.gov

These well-dressed birds frequent our feeder. They prefer the hopper feeder and they exhibit territorial behavior at the feeder. When the hopper feeder is empty, they will feed on the ground. Recently the hopper feeder was empty and there were at least 11 rose-breasted grosbeaks on the ground under the feeders. They were making all sorts of creaking sounds and they were lurching at each other, sometimes one would chase another a few steps. Despite the battle for seed real estate, they all continued eating until something frightened them away.
One day while watching the birds with camera in hand, I happened to catch an amusing scenario between a male rose-breasted grosbeak and a female cardinal.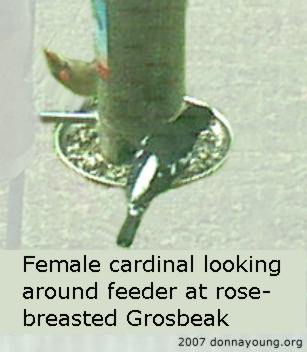 In this image, a female cardinal has landed on the hopper feeder. Apparently, she has had some experience with the rose-breasted grosbeak because she leans over and looks at the grosbeak, then she flies to the ground.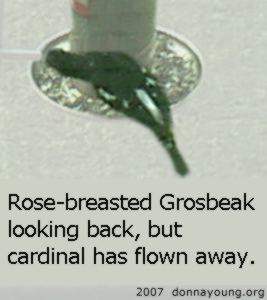 This image shows the rose-breasted grosbeak leaning way over to look at whoever dared land on the feeder while he was there. The cardinal had already left so the grosbeak returned to his lunch.
Female Cardinal on the Window Sill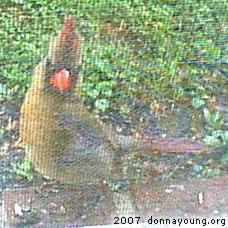 Happy Bird Watching,
Donna Young