!–Spider Photo Ahead–!
Last May, 2008, and under my husbands wishes [orders] I purchased a new camera. He was getting ready for his yearly stress-relieving explosion extravaganza vacation and he wanted a camera to take a few pictures.
We bought the Canon PowerShot SD1100IS. It was a good choice. He had the camera for a week and I have the camera for the rest of the time. I took a lot of photos this year. Most of them in my vegetable garden.
Today, I want to share the strangest photograph. Some of my internet buddies have already seen the photograph. It is a spider, more specifically from the genus, Argiope.
http://en.wikipedia.org/wiki/Writing_spider
We call them writing spiders and, as a child, I heard all sorts of folk-lore about this spider. We were not allowed to say someone's name in front of a writing spider and we couldn't smile at one either because it might count our teeth!!
The Photograph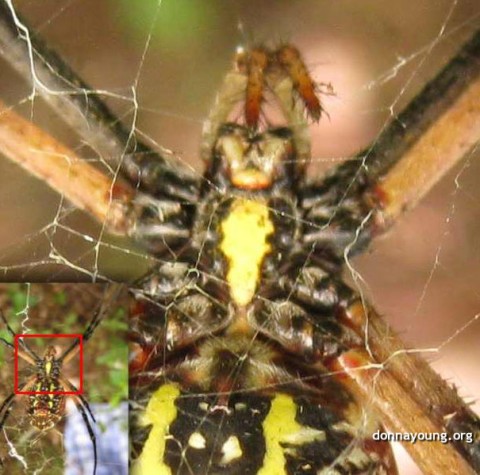 I took several pictures of the spider and the one above is one of the belly shots. After seeing this picture, I can, perhaps, maybe, just a tiny bit, understand why there is folklore about this spider.