Today I had flowers on my mind. If my digital camera worked with batteries, this post would have looked different. I would have posted a few images of the wild flowers, aka, weeds that are blooming in my yard. I collected a few flowers to press.
I did not press any dandelions. Dandelions are usually the weed/flower that I would prefer not to have in my yard. At the same, the herbalist-wannabe in me wants to keep them, but in a place all to themselves. hahaha
I do not think dandelions can be confined.
I wanted to see the dandelion up close and so I walked out my back door and selected one that was just a foot away from the porch. There is a nice selection of them in our yard, but I wasn't going to look for the best specimen. I did have to walk a few more feet to get one in the seed stage. So I brought them inside to scan them.
Some of the images are large and those will be linked with a smaller image. I hope you enjoy seeing the dandelion up close. Each image will tell at what percentage that I set the scanner.
The first one shows the toothy tips of the petals.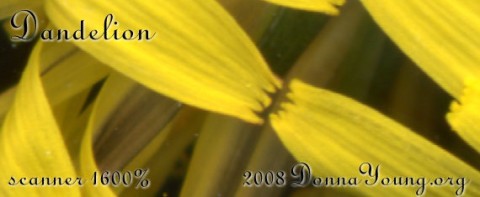 The next scanned photograph shows a close up image of the middle of the dandelion. I do not know what the purple, blue dotted disk is that is shown with the flower. There are a whole lot of things growing in my yard. To my husband's chagrin, our yard is exceedingly natural (full of weeds and bugs).
The next three scanned images are linked and please click on the thumbnail images to see them. They really are too large to post here. Each image shows a different stage of dandelion seed development and each dandelion is cut in half.
The first one is at the stage after blooming. The flower is closed with a yellow top.
. . .
Stage two: The dandelion bloom is closed with a white top.
. . .
Stage three: The dandelion seeds are ripe.
. . .
Lastly, I have two very large images to show you. The two images are too large to link to a page. (oh look, two, too, and to in one sentence)
The images will open in your browser.
The first one shows a dandelion bloom that I cut in half and scanned. The larger version of the image is 398K. The second one is a ripe dandelion and that larger version is a whopping 1.1M. If you are on dial-up, consider skipping the second one.
Donna Young