The lemon balm is up and growing with vigor. The lemon balm plant pictured below is large this spring. I have three plants or more and I should begin harvesting soon.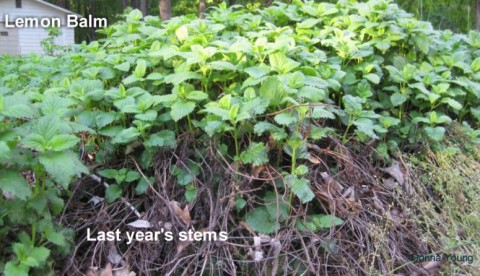 What Does One Do with Lemon Balm?
I dry the leaves for herb tea. I use around 2 teaspoons of crushed leaves per mug-sized cup. More often, I add lemon balm to other herbs for tea. I use herbs such as mint, rosemary, sage, and any other herb that I grow in my garden.
I have used dried lemon balm in cookies. It gives the cookies a light lemony flavor and the cookies are a pale green color with flecks of lemon balm showing. I made up the cookie recipe and I do not have it handy.
As you can see in the picture, I did not clear away last year's stems. The balm did not die back until it was cold outside, very cold, and I left them alone. They dried in arch shapes and I suppose a small animal could have taken shelter there for the winter. I can't verify that.