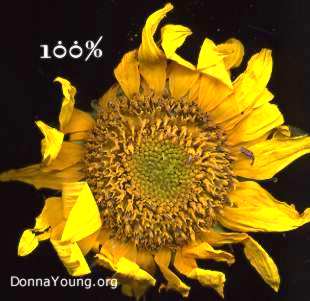 While working in the garden yesterday, I found a sunflower bloom on the ground. I do not know why it fell off the stem. I brought the sunflower inside to scan close up images of its parts. The image to the left is scanned at 100%. If you would like to see the rest of the images, please keep reading.
This particular sunflower blossom is a small one, only 3.5 inches across, counting its petals. It came from a branched sunflower plant. The flower is in what sunflower experts would call stage 5.6. Stage 5 indicates the ray flowers are open. The decimal indicates what percentage of the center disk flowers is open. In this case, 5.6 means 60% are open. A sunflower center consists of many tiny flowers (disk flowers) and row by row, from outside to center, they open. The big yellow petals are the ray flowers; they serve as the landing strip indicators for bees to land. All sorts of bees visit the little flowers.
Halves
After scanning several more images, up to 2000%, I did the next most logical step; I cut the flower in half. Now I will show you three more pictures from the batch of images. The images of the halves seem creepy to me.
In these images, you can see the developing seeds.
In case anyone is curious, the scanner I have is an Epson Perfection 1200U. I bought it 7 or more years ago. I use the scanner's twain program in the advanced mode to set the percentages.
I hope you have a lovely day.
Donna Young