The temperatures dipped below freezing a couple of nights ago. It was inevitable and it killed most of my garden plants. I chose 2 pepper plants and 1 tomato plant to save. I wrapped their cages with moving blankets and so far, they are still alive. That is one of the advantages of growing plants in sturdy cages.
Before the first killing frost, I picked tomatoes from the doomed plants – the two tomato plants and one of the cherry tomato plants. This is what I have.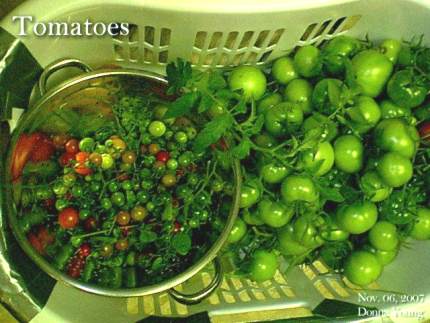 They are still in the basket because I have not had time to do anything with them. I've not had time because I have been drying mint, freezing bell peppers, cooking, cleaning, school, working on donnayoung.org, and
working on this new autumn blog theme. I will make time for the tomatoes today.
Mint is hardier than the peppers and tomatoes, but I covered up one of the mint patches just to make certain that the plants would live. The day of the frost, I picked two batches of mint. The mint is important to us because Holly and I drink mint tea just about every day.
The picture below is the evening mint harvest. It was too much for my dehydrator so I stripped the leaves from the stems and dried the stems in the oven. Dried mint stems taste just like the leaves. I tested them first by making a pot of tea just from mint stems.
In the background you can see some of the bell peppers that I picked from the doomed pepper plants – I saved only two of the five pepper plants. The peppers are mostly green
but I put them in the freezer anyway.
Other than the other things that I have been up to, this garden chore is another thing I have been doing. On the next almost warm day, I will need to clear out the garden – except for the saved plants of course – and get it ready for next year. I want to plant more herbs.
Happy Homeschooling (and gardening),
Donna