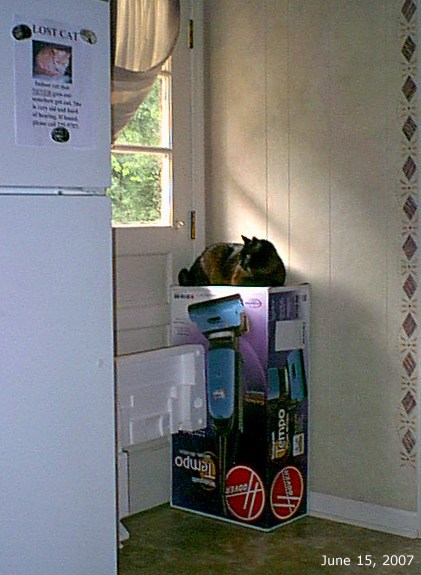 Not long ago, I declared my vacuum cleaner useless and I threw it in the garbage. Shortly after that, I ordered a vacuum cleaner from Amazon to replace it. The vacuum cleaner that I chose is a very cheap model, even cheaper than what is normally considered cheap for a vacuum cleaner, just $69.99. It is like the vacuum cleaner that your 2 cousins might pitch in together to buy you for a useful wedding shower gift that also happens to be in an impressively large box.
The vacuum cleaner I bought is the Hoover U5140-900 Tempo Widepath Bagged Upright Vacuum
. [update: April 05, 2008 – vacuum still works great – Update: June 1, 2012, still works great] I choose it because it is listed in the January issue of a certain consumers magazine as being a good deal. 😉 I was looking for a good deal, I can not spend hundreds on a vacuum cleaner at this time. The vacuum works and so far I am happy with it. I've set the box up for the cat's enjoyment for now. The image shows the box and our homeschooled cat at the back door.
Garden
Below are some images from our yard today:
The zinnias have started to bloom. I planted pink and red zinnias, the large variety. These are some of my favorite flowers. My photography skills were poor today. After coming inside and looking at the pictures, most of them have the right side cut off. I wasn't up for a do-over.
Here we have a mystery sunflower. This one is from seeds from the bird feeder. It has many flower buds along the stem. Several of these came up from seed. It is going to be interesting to see how many different varieties of sunflowers came from the black-oil birdseed bag.
This image shows a pink daylily. I don't know what kind it is. I bought it over 10 years ago. It's one of my favorites. Daylilies are called that because each flower is open only for one day.
Here we have a Monarda Bee Balm. Isn't that a cute name? The plant is in the mint family, it has a square stem. It is spindly and spreads by underground runners. It is prone to downy mildew. The leaves have a very pleasant scent and I imagine, though I don't know for certain, that it might be good in tea. Hummingbirds are attracted to the flowers.
This image shows the trimming job of the bushes in front of the front porch. Severe isn't it? Hubby wanted the bushes no higher than the porch. I told him that would mean there would be no leaves left on the bushes, neither of us cared so we now have lovely bushy branches out front. They certainly do not take away from the house; you can barely see them from the road.
My son came in for the day Sunday and I told him that I am making the quilt for him. Briefly a smile appeared and that means he was happy with the news. I have not worked on the quilt much at all. I am still getting together the pieces for the border. Yesterday, I cut the printed continuous design strip pieces and if you are familiar with that sort of design, then you know that next I have to join the pieces by hand to insure a continuous design. The image shows what I must do, however, it doesn't show it very well. Basically I have to decide where to join two pieces. Then I fold one piece over the other, matching the design, pin, and hand stitch from the top.
Donna Young