One day in the recent past, something like over a week ago, I noticed that the little animals in the area had consumed every ripe sunflower seed that inhabited my little speck of earth that I fondly call garden. It just meant more work for me and getting it done sooner was better.
One evening, four days ago, I broke off my computer chains and ran outside to strip the sunflowers of their leaves and buds. I left those in the garden and I pulled the stalks and carted them off to a pile in the woods. Then I tilled.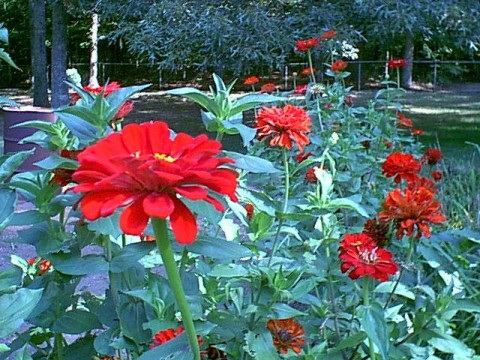 There is a bright note, the pampered zinnias are a sight to behold. Not only do they give me joy, but they are host to butterflies and hummingbirds. Just today, Holly and I watched playful hummingbirds flying about them in huge circles. The tallest zinnias are eye-level to me. I have pink zinnias too and they are tall, but not as tall and lush as the red ones.
This is an image of the pink zinnias. They are a bit crowded and require a lot of water. I did not reset these after they sprouted and that is why they are too crowded. I transplanted the red ones, setting them around 9-12 inches apart. They almost died and had to be pampered.
This is one of my tomato plants. It has twined around in its cage and is growing out of the cage in several places. The tomato is sticking up over a foot above the 5-feet tall cage. This is short, normally they are 10 to 12 feet tall by now. I suppose the drought and getting city-water has been tough on them. They are producing beautiful tomatoes despite the weather. Notice the empty space behind the plant, that used to be occupied by sunflower plants.
One last look at the sunflowers. This image is from the July 12, 2007 entry
On the home front, my son arrived safely back in America on August first from his visit to Japan. He had a fabulous time and I have yet to see pictures. His internet at his apartment is down and we have not yet seen each other .. but soon .. soooon .. I will have pictures .. oh yes.
I've got to go!
Have a lovely day.
Donna Young