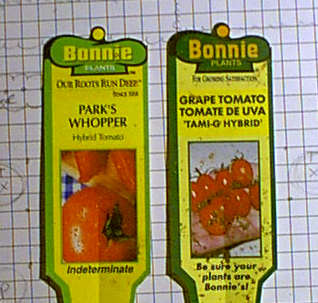 For the past couple of weeks, I have tried to take photographs of my tomato plants but in the photographs they look like big green blobs. Tonight while dumping some tomato peelings on the compost pile after dark, I looked at the plants with the flashlight and noticed how one plant could stand out in the dark and, maybe, in a photograph. Below are photographs of three of my tomato plants.
The image on the left shows the two varieties that I took photographs of.
I planted the tomatoes early May 2008.
Note: The cages are homemade and 5 feet tall by 21 inches in diameter. Naturally, there is just one plant per cage.
Grape Tomato #1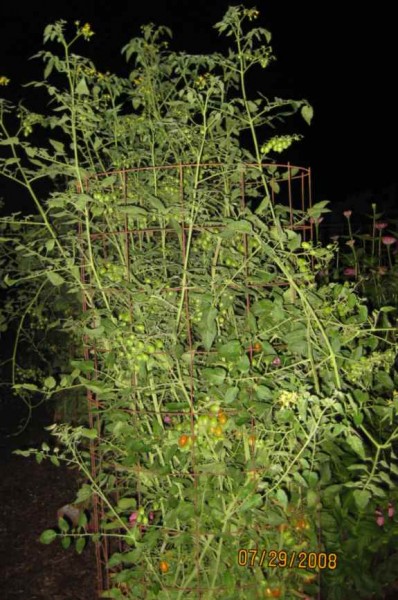 I have two of these grape tomato plants, the one above and the one below. They are extremely branched out and have filled each cage. Each day I had to push errant branches back into the cages and I missed a few. They are now growing over the top of the 5-foot tall cage and this is normal.
Grape Tomato #2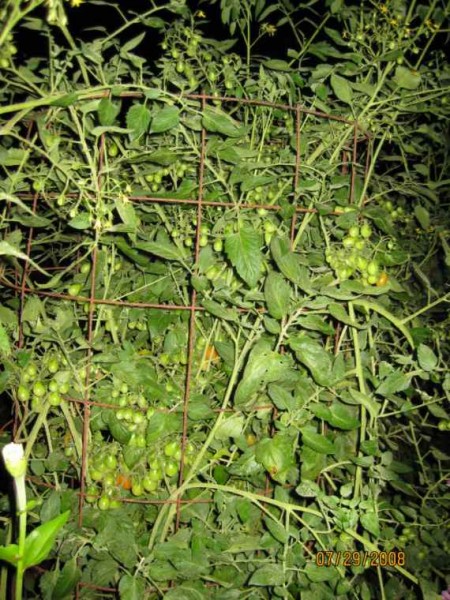 Notice the zinnias in all of the pictures? Some of the zinnias are 5 feet tall now. I grow the giant variety.
Park's Whopper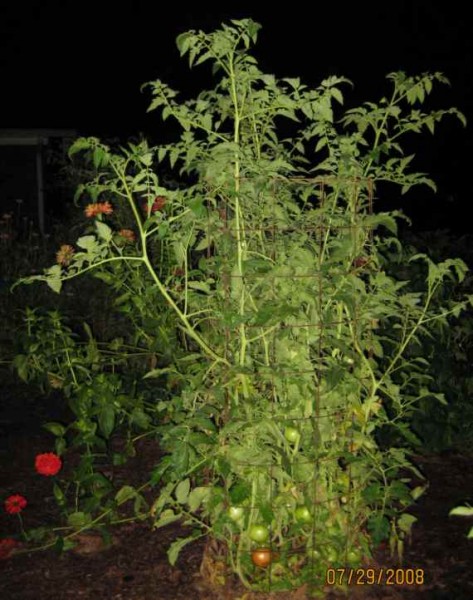 I have 4 of these park's whopper plants. I chose this kind because it makes nice normal sized tomatoes. As you can see, the bottom tomatoes are starting to ripen, the real work is about to begin in full force.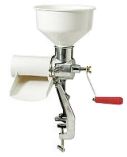 Today I broke out my old Juicemate and used it. This thing is good for processing a lot of tomatoes. I blanch the tomatoes first. I've tried it both ways and blanched is easier. The grape tomatoes go into it too. I am an equal opportunity tomato squasher.
I have a feeling that I will be using this thing a lot until the tomato plants get frostbit in October.
That's all for now.
Happy Gardening or Happy Homeschooling,