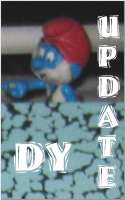 I must be slipping because ordinarily, there would not be just 2008 calendars on my web site during 2008. There would be 2008, 2009, and possibly 2010 as well. When I looked at the calendars in the Household/ Half-Sized section, I was a little surprised to see just 2008 calendars.
How can organized people organize without at least this year's and next year's calendars in the planner???? I ask.
Calendar shortage just doesn't work for us.
Updates
Sept 17, 2008 | Half-Sized Ruled Household Planner