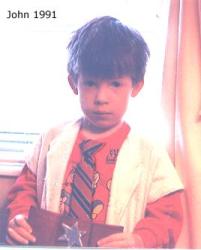 This is a busy time of year for me. I expect that I will be busier than normal up until mid-September. I will recount this week briefly along with some images from the week.
The image of the little guy isn't from this week, it is my son in 1991. He is dressed up. He looks serious in this image.
This is John and I. I had to stretch to add the bunny ears. Sunday, my son set off for Japan and he arrived there on Monday. He is in CAP and he is participating in IACE (international air cadet exchange). We have heard from him recently and he is having a wonderful time in Japan. He will be there for 2 weeks.
The garden is growing well. We are getting plenty of rain and everything is growing. It is too wet to weed. Several birds, American Goldfinch, Cardinals, and Tufted Titmouse, are feasting on the sunflowers. Squirrels are too, but they are breaking some of the plants. The sunflowers were planted for the animals, otherwise, I think the plant breaking would bother me a little.
The tomatoes are producing well. I have only two regular tomatoes plants and 3 cherry tomato plants. There comes a day when the plants produce more than you can eat in a day. That has happened with my tomatoes. Guess what's for dinner.
Mainly, I am working on my two websites. This time of year always demands updates on all dated materials. I will tell more about the updates later. Donnayoung.org has a list of recent updates on the home page.
It's not been all work, I've taken time off to watch a different movie each day. Daily, I am exercising and keeping my daughter on task with her routine. She has Thursdays and Fridays off from most tasks.
Movies:
The Queen 🙂
Marie Antoinette 😐
X-Men: The Last Stand 😕
Stranger than Fiction 🙂
The Blind Swordsman: Zatoichi 😀
Donna Young