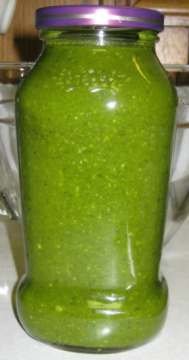 Pesto keeps for about a week in the refrigerator. If you grow basil plants, you may make pesto sauce to put away in the freezer.
Basil
Basil can be harvested several times in the summer starting shortly after it blooms. The plant can be cut within a few inches from the ground. The stumps should develop a second and even a third crop if care is exercised to keep the surface clean and open. For seed some of the best plants should be left uncut. The seed should ripen by mid-autumn.
Ingredients
3 cloves garlic
1 large bunch fresh basil leaves (about 2 cups)
1/3 cup pine nuts or walnuts (I use walnuts)
1 cup extra virgin olive oil
1/2 cup grated Parmesan cheese
salt – to taste
fresh ground black pepper – to taste
Directions
Pour all ingredients in a blender and puree until smooth. Taste, add salt and pepper to taste. Refrigerate or freeze.
Serving Suggestions
Pesto is a great sauce for a variety of hot pastas, including spaghetti, angel hair, bow-tie (farfalle), fettuccine, and tortellini.
Try flavoring a cold tortellini or rotini salad with pesto.
Give homemade pizza a twist by combining regular pizza sauce with pesto, or by replacing it altogether.
A bowl of pesto and sliced bread is an easy, yet upscale, appetizer.
Lightly smear pesto on chicken, fish, or sandwiches for added flavor.
See also this entry: Basil
My Pesto recipe is published in this cookbook: In the Kitchen with Jessica