Part 5 of the quilt is done. Now it is time to decide what fabrics to use in the border. I have tentatively chosen some, I only hope there is enough yardage of each. On another note, John stopped by today for a haircut. He has a color guard to do tomorrow at an airport (either Knoxville or Nashville) and I showed him the quilt. I didn't tell him that I am making it for him. He likes it. He recognized it as being like the one that a man representing the Tennessee Valley Authority bought from me 12 years ago.
Right now the quilt measures 54.5 inches. The border will be around 12-13 inches wide. It looks like the finished quilt will be 6.5 feet square. That's boring information but when it comes time to make the border, it will help me know how long to make the border. So far it looks like I ought to make 27 feet of border just to be safe.
Mock-up of Border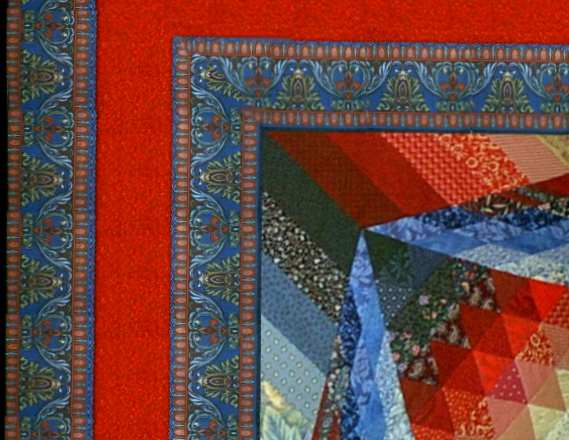 I am going to sleep on this. If I still like the border in the morning, I will decide on how wide to make the fabrics, especially the red part, and check yardage of the fabrics shown. If I have enough, I will start making the border.
I hope you have a nice weekend!
Donna Young