Last weekend, my son was in town for something to do with Civil Air Patrol. I asked him to bring his laundry so I could clean it. He normally does this himself, but I do not mind giving him a break and I usually find something that needs mending. This time it was a towel. An otherwise perfectly good towel had a giant hole in it and three small holes. This is what I did repair the towel.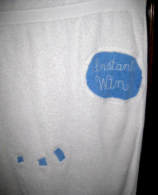 The small image shows the patches. I patched it with an old blue towel. I could have used a white towel, but I wanted contrast.
The small patches are just squares laid over the hole and sewn over. I used a smocking stitch instead of zig-zag. Most machines should have that. My machine is 32 years old and not fancy, although it is excellent.
To patch the giant hole, I laid the blue towel under the white and sewed all around the hole with a straight stitch. After that, I trimmed each side around one-quarter inch from the stitching. Then I sewed over the raw edges on both sides with the smocking stitch.
After that, I dropped the feed-dogs, released pressure off the foot, and wrote the message, Instant Win, on the blue patch. I did free-hand writing, remember, my machine is not fancy. John used to say "instant win" a lot.
Image of patch: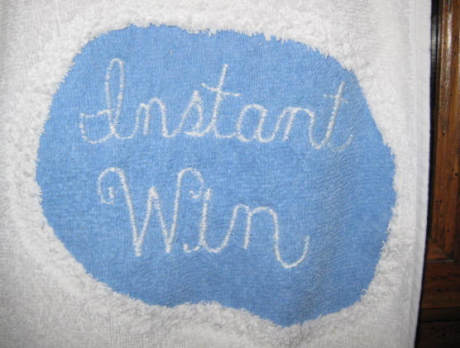 This towel writing isn't new. A decade ago or more, I used to write (sew) various messages, such as "Shower Power" , "Oh to be Clean" (and etc.) on wash cloths to the kids. Pictured below is one of the washcloths.

Have a nice day!