There are several ways to miter quilt borders. Getting the miter right is important. A miter that is off will result in either a tight corner that cups or a corner that is wavy. For this big wall quilt, I will need to be picky about the corners. I'm using an angle to help me get them as square as possible with the 45 degree fold.
I've pinned the quilt to the ironing board making sure that it has straight edges. Then I pinned the angle to the quilt at the corner. The miter isn't sewn or pressed yet. I'll probably sew it by hand.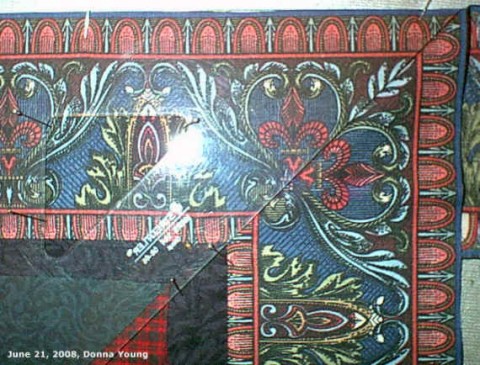 Whatever works well and simplifies this process is good (for me). This is not as tedious as it looks.

– – – – – – – UPDATE – – – – – – –
This image shows the corner after it was sewn.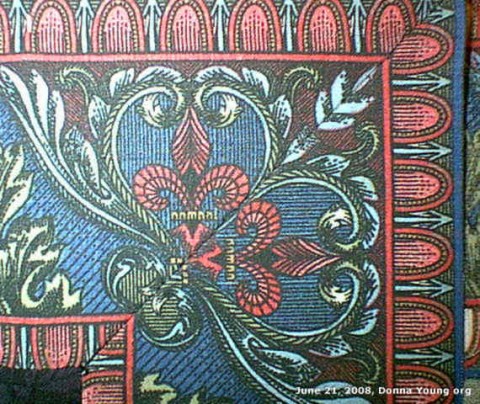 After being satisfied with the 45 degree folds, I removed the square and flipped the other side to it's 45 degree position. I steam pressed it, hand-sewed it, then machine sewed it. It turned out well enough even though I had to remove some errant sewing machine stitches and resew.
The only thing that is really easy about mitering corners is doing it wrong. Last night I finished two of these mitered corners and I am not happy with the second one. It needs to be taken up a bit in the middle.The tiniest bit off shows.
This is the other corner, the one I'm not happy with. After posting this image, I'll fix the border corner. It's hard to see, but there is fullness in the corner that should not be there.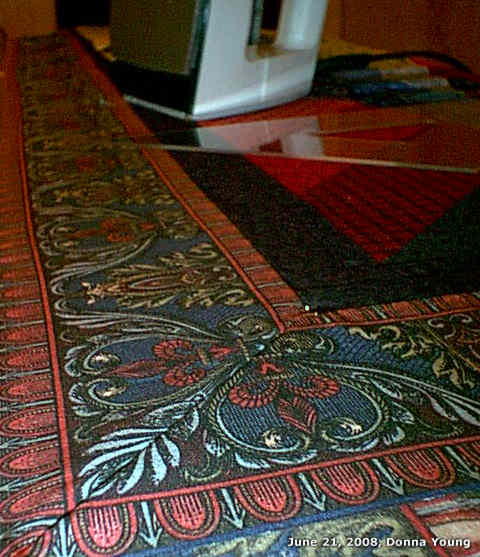 I didn't mention this before, but the border fabric that I am using has a repeated pattern. I am centering the design of each piece on each side so that the pattern match will be decent at the corners.