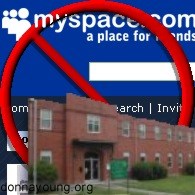 While in the early stages of remodeling donnayoung.org, I set up a suggestion form on the home page. A school teacher sent in this comment.
"I cannot access the Whose Space Is This? worksheet from school because the url has "myspace" in it. All myspace is blocked. I can access it from home, but I thought you might want to know."
I am happy to report that I have changed the file name. The file is now named hourspace. If the name hourspace gives anyone any trouble, feel free to let me know. The clock worksheet web page was also updated so that the link would work.