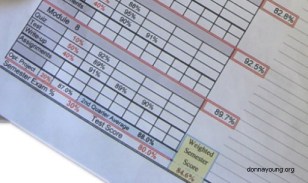 One of my online friends, Michelle, who teaches a lab science co-op mentioned using my Grades & Attendance grader keeper for her class. That prompted me to make 12-16, a different kind of grade keeper.
12-16
12-16 is named after these two aspects of the grade keeper:
1. The front page of the file accepts up to 12 students, or if you are using this for one student: 12 subjects.
2. 16 refers to how many grading sections each page has; there are 16 "Grade Blocks." This is ideal for books that have 16 chapters or a class that is divided into 16 parts.
Lab WU (Write Up)
Lab WU, which is included in 12-16, is my Composition Grader that has sample criteria for grading lab write-ups. I made (the composition grader) Lab WU in 2006, but never put it online. Lab WU, the grader, is very flexible.
To wrap this up – 12-16 is a grade keeper; Lab-WU is a criteria-based grader. Together they are 12-16 Lab WU.
I wrote help pages for 12-16 and they start here:
12-16 Help
Help for Lab WU is a bit lean, its help page is here:
Lab WU
12-16 Lab WU needs to run in a spreadsheet program. I made it with Microsoft Excel 2002, so it should work with Excel. I have not tested it on any other software brands.
12-16 Lab WU may be downloaded from this page:
12-16 Lab WU