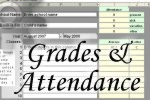 The improved 2007 versions of Excel Grades and Attendance are online and ready to download. This year there are two versions. The difference between them is how one enters the scores.
The different one, the Points version, allows you to enter scores in a fraction form. You can read more about the point version here. This link is part of the new help files: Adding Grades: Points Version.
The files are available in the homeschool forms section, they are not currently in a zipped package, but they can be downloaded from the "All Files" – Grades and Attendance web page at donnayoung.org.