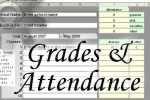 I've made a new G&A. It is currently Beta because I have not yet went over it thoroughly. This grades and attendance keeper is very basic, but at the same time, it has features that the other G&A's do not have. I am calling it G&A 48.
G&A 48 would be good for homeschoolers who:
Want a simple grades and attendance keeper.
Want many cells to add grades just in case you need them.
G&A 48 has 6 columns and 48 rows for grades. That ought to be enough for a family who homeschools most of the year and it would be fine for those who homeschool within a typical public school year time frame.
Because it is a whole number type, I added grade calculators.
Because I get requests, it has two grade cards, one reports 4-terms and the other one 6-terms.
At this time, I have not made any help files for this particular G&A. If you are used to my Grades and Attendance spreadsheets, then you should have no trouble with this one. The grade calculators might seem easy to use and might not, it is hard for me to tell if others will find them easy or not.
You can see the file and two screen shots at the G&A 48 web page at donnayoung.org.