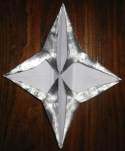 From a square sheet of paper, you can make a folded star. The star pictured is made from one sheet of 32 lb. paper and a piece of aluminum foil that is slightly larger than the paper.
Homemade Foil-backed Paper for the Folded Star:
1. For this folder star, get one sheet of paper and one sheet of aluminum foil that is at least 9.5 inches long.
2. Cut the paper to square – this makes the paper around 8.5×8.5 inches long if using printer paper.
3. Glue the dull side of the foil to the paper. I used *rubber cement.
* If you use rubber cement, please read the warning label first.
Materials
Foil-backed paper (wrapping paper or homemade, see above)
Scissors
Ruler to make the paper square (or use fold techniques to make the square)
Ribbon
Glue
Instructions for making a folded star are at donnayoung.org:
https://donnayoung.org/art/folded-star.htm
The project is moderately challenging.