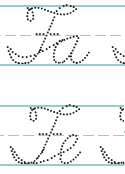 Maybe it is a combination of enough sleep and more than enough coffee, but I have started new work on the cursive handwriting worksheets. Today I made 3 worksheets and a new web page. The purpose of this set is to show children how to alter cursive capital letters so that they can be connected with the following letter in a word.
The image shown here shows an altered letter "F".
I have numerous projects going on so it will take me a little while to complete all of the worksheets. Of course, I could push this through, ignoring everything else temporarily.
The new worksheets are located at the new web page at
https://donnayoung.org/penmanship/cursive-capitals.htm
Related at donnayoung.org: