2008 UPDATE: My web site resources for the DISTAR adaption method, Teach Your Child  to  Read in 100 Easy Lessons have been redone since this blog article. The home page for the 100 Easy Lessons resources is at:
https://donnayoung.org/penmanship/manuscript-practice.htm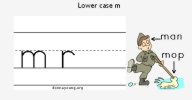 I needed to add manuscript animations to go with my handwriting worksheets that are in the 133 Manuscript Handwriting Sheets (100 ez) web site. That meant I had to work on the 100 ez web site itself to make it easier for me to update. I framed the mini-site and that cut out around 66% of the pages I had before I started adding more. Framing reduced the navigation update pages from 24 to a measly easy to manage 3 pages. 🙂 That is enough of those nerdy details, the rest of this pertains to you, the guest at my website.
Navigating Manuscript Hand Writing
If you are already familiar with the navigation that was at the 133 Manuscript Handwriting Sheets web site, then the new site will not appear very different, it might even seem easier to use. If you are not familiar with the site, then see the image below.
The upper left links (in red) change the content on the right.
The lower left links (in green) change the content in the middle.
Not highlighted – the links on the far right change the content in the middle and that content is either the pdf files or the animations.
Manuscript Animations
I am making animations to go along with the worksheets that are at the part of my web site linked above. The animations will be added as I do them and I expect to do 2 to 4 a week as long as nothing major comes up. To get to the animations see the image below.
Look in the upper left links, find and click the link named Animations and the Animations menu will appear on the far right side of the web page. Choose an animation to watch, click the link, and the animation will load in the center of the window.
You will see the letter link and then a link next to it named w/o image. The link named w/o image shows the animation all by itself. The lone letter link will have an image next to the animation. The image represents the sound of the letter in the animation. The w/o image links are provided because I think the extra image could be distracting.

Donna Young
. . . . . . . . . .