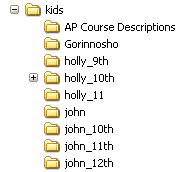 During the years that I have had a high schooler in the house, I used a folder system on my computer to collect all of the inevitable high school files. First, I created the one folder to hold them all and named the folder kids. Inside the kids folder, I created more folders, one for each child and year. I name the folders after the child and the grade such as Holly_11.
Each folder will hold at least: The Excel file that I use to track grades and attendance, the course of study, and scans of the records that I turn into the private school where my children are registered. During the year, the folder will start to pile up with other files such as essays, reports, and sometimes, scans of artwork. Throughout the year, back-up the most important files. For me that usually meant backing up the Excel file every single time I added grades to it and if I made a general back up by burning files to a cd-rom, I included the kids folder. At end of the year and if I have not already made copies, I print copies of everything important and place them in our *safe. All of the files in the kids folder from this year and previous years are burned to a cd-rom.
*If you do not have a safe, place the copies in a large envelope and then inside of a large freezer bag and put them in your freezer where they are less likely to burn in a fire.