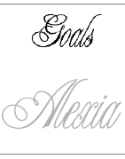 Because my to-do list for today was ditched by unforeseen circumstances, I have added the Alexia Planner today. I recently remade all of the files using images to preserve the font that I use in this planner. The Alexia planner is not my largest planner but it is available in the most file formats and it has some unique layouts.
File formats: pdf, doc, rtf, and odt.
The Alexia planner uses the The Champagne Font, which is available online and on the Alexia planner page.
Happy Homeschooling,