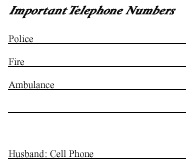 The perpetua planner is another set I have added to donnayoung.org in the Household section. Perpetua planner is a small household planner set that uses the perpetua font. The planner has files for phone numbers, 18-month calendars, an undated block planner, and birthdays and anniversaries.The files are PDF. If I ever find my original doc files, I might add them too, but I am not actively looking for them; they are on one of my many back-up disks.
I also added two new DOC files – a phone register file and a journal file. The journal file is dressed up a bit just as an example of what can be done with doc files if you have the time. I know that a lot of you already know about that.
The Link to the Planner (almost forgot this part)
This addition is just another tiny part of a large project I have going.