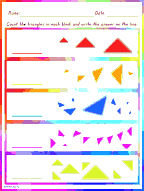 I made a new set of shapes worksheets last week. They do not fit into any category that I have at Math at this time, so the only link to them will be on the front page of Math until I sort out how to link this set in the menu.
Meanwhile, these worksheets were sitting around eating at my brain for 5 days and so today, I added many pages to math. Most of the pages are from YoungMinds [site-cd] and to some people, this is not new content but to most of you, it is new content. Below are links to the pages that I added today.
Kindergarten Math: Count the Shapes
Math Facts: Triangle Cards, Drill Sheets, etc.