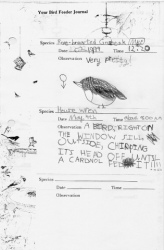 What started out to be just a file renaming job became an adding content job. I don't know why I don't stop myself during times like this.
Heads-Up: Over the next week or so, I will be changing the printable file folder names. I do this every year. Should you click on a FILE link that doesn't seem to work, refresh the web page. Refreshing is done by clicking the curved arrow at the top of most browsers, or by pressing F5 on your keyboard.
Okay
I didn't really mean to add the nature journal pictures today, but I did. It's on my list for this month, but not for today. It is several pages long, look for the menu on the right side. You can see the beginning here:
After adding it I realized that the nature journal links to printable 1/2 sized files that are only on my site-cd, YoungMinds.
What good is that? I ask you.
None, you say.
And I agree.
I spent the next 4 hours converting some of the files from the site cd for donnayoung.org. Those files can be used to construct parts of a 1/2 sized journal.
These pages are not the limit of 1/2 sized nature study recording, no, they are just the tip of the iceberg. A journal should also have ordinary unadorned paper in it, as well as various ruled papers, some with blank tops, some with even blanker tops if you can imagine what that is. The journal is basically a vessel where your child writes, draws, copies, and studies what is observed in nature. The Nature Journal images that I added today reflect on that idea.
Calendars
A couple of days ago, I added new calendars. Someone requested this type or at least, this type is what I think was requested. It is a one-page-monthly block calendar. I included the doc format along with the typical pdf.
Thanks for visiting my web site.