This is a TOC Planner. The image shows a draft copy with my notes. A TOC Planner has the table of contents in tables so the person making lesson plans can write notes for each part of the book. That is how I made lesson plans some of the time.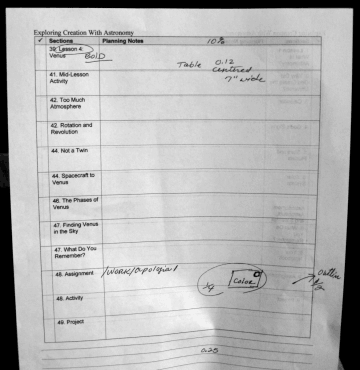 Yesterday I decided to make TOC Planners for all of the Apologia science books. They are not as easy to make as one would think and if possible, I am included the lab supply list. So far, I have made only three.
I have not linked the planners at DY yet. I will have to code a new page for them. I will probably place them under their own subcategory, "TOC Planners" in the Science > Apologia Science part of the menu right next to Co-op.
The TOC Planners are several pages long with at least one page devoted to each chapter and some chapters taking two pages. I am creating these files in Microsoft Word so if the length is a problem, you can cut them down as much as you need before printing.
I would link the 3 that I have, but my blog isn't a file linking place. You will have to wait. So far, I have finished TOC Planners for Zoology 1, Astronomy, and Botany.