I named this entry Main Garden as if I had many gardens and I do not. I only hope to have many gardens and if I did, this one would be the Main Garden. A friend cut this garden for us around 15 years ago. The garden is just a few yards from our house in our backyard and as it is today, it measures 20′ x 50′.
Last year I did not grow anything in the garden and my husband mowed over it. Prior years, I had let go 1/3 of the garden, but this year, I reclaimed the entire garden. Saturday I tilled it, cutting it from lawn. It was not as hard as I thought it would be. I ran the tiller over it at least 10 times. After that, I hauled leaf and pine needle litter from the woods and covered parts of the garden, and then I burned it. Bluebirds, Cardinals, and Robins have been feeding off the burnt area.
I am not planning to plant much this year because I will be busy this summer. Mainly I will try to improve the soil.
So far, I have planted:
Basil (for pesto and drying)
Cilantro (for salsa and just because I have never grown it)
Mint (My garden already has mint, but I transplanted some sprigs because I need to dry a lot of mint – for mint tea)
Spearmint (ditto above)
Cherry Tomatoes (fresh eating and cooking, possibly freezing)
Tomatoes (cooking and freezing, possibly drying)
Bell Peppers, yellow and red (cooking and freezing)
Zinnia seeds (pink and red, these are for tiny visitors plus they are nice to look at)
Sunflower seeds (for tiny visitors)
Coneflower (divided and replanted)
Monarda Bee Balm (replanted some sprigs in a different location.)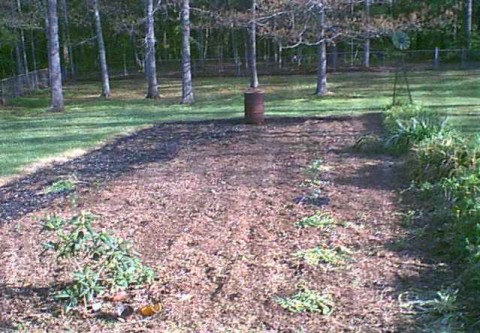 This is an image of my garden as it looks today. The masses of green lying on the ground are leaves from daylilies. I have thousands of daylilies and they are crowding each other, so I pulled a few out of the ground and used the leaves as mulch. The shrubby plant in front is a small rhododendron. It is in the garden waiting for its permanent spot and it will be replanted sometime this year or the next.
Just for the fun of it I scanned a couple of photographs of my garden from years ago. These are more interesting to me because my kids are in them.
John and Holly between the Okra and Corn – 1994
Holly in Front of the Garden – 1997
Planting Style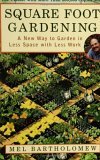 In the past, I used the Square Foot Gardening method by Mel Bartholomew. It works very well and allows for a lot of creativity. 🙂 If you are not familiar with that method, it is basically a way to grow a lot of vegetables in small spaces. I made a whimsical garden one year. I fashioned arches from young trees that I had gathered from the woods and grew vines such as cucumbers on them. In the future, I would like to have permanent structure to my garden with four main parts and permanent paths.
Hummingbird Story
One of the oddest things that happened to me in my garden was the hummingbird incident. That year, and this was typical, I grew pole snap beans on 5 feet tall nets. The garden bed was raised around 8-12 inches, so the bean rows were 6 feet tall. The beans grow a lot taller than 6 feet, so they grew overhead and they met in between the rows and that formed shady green tunnels where I stood or squatted to pick beans. One day I was squatting in one of the tunnels, picking beans, and I was wearing a red shirt. Suddenly I heard a sound, it was loud and it sounded like a pig snorting. I froze and listened. The sound continued and while it did, I reasoned with myself that my backyard was fenced in and that no pig could get into my yard. I turned my head slowly toward the sound and found myself nose to beak with a hummingbird. Hummingbirds snort! 😆 As soon as the hummingbird realized that I was not a huge red flower, it flew away and I resumed picking beans. Years later, I searched the internet to read about snorting hummingbirds and found no information at all! Surely, I am not the only person to hear a hummingbird snort. Much to my relief, my sister reports to me that she has heard a hummingbird snort at her hummingbird feeder.