Garden Mulch

Five days ago, I began mulching the garden. Some of the plants are tall enough to handle the thick layer of mulch that I like to put down. Some plants are not tall enough and they are not mulched yet. We are blessed to have a wooded section in our backyard and that is where I gather mulch for the garden.
I gather mulch from two sources in the woods. One source is the partially decomposed leaf and pine needle cover. To get this layer, I rake off the loose leaves to expose the dark moist decomposing layer underneath. After gathering that layer, I replace the loose leaves. The old decomposing layer is thick in some parts of the woods and walking on it is like walking on a foam mattress. That has nothing to do with anything, just an interesting thing about undisturbed wooded areas.
The second source is compost - the large piles of grass clipping and mowed leaves that my husband picks up with his mower's grass catcher. He does not pick up grass clippings all summer, just a few times and that is enough to collect large piles of compost.
Pictured below are the compost piles in the wooded part of our backyard. It's a pretty place to work.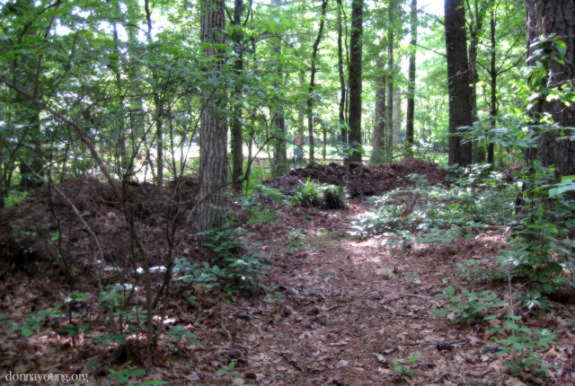 One does not have to have a wooded place to start a compost pile. A compost pile can be a relatively neat place in an open backyard. They are several ways to manage a compost pile including ways to contain it in a neighbor friendly way.
This photograph is a close-up of the mulch. The mulch contains pine needles and leaves. The mulch pictured is from the forest floor instead of the grass clipping and leaves piles.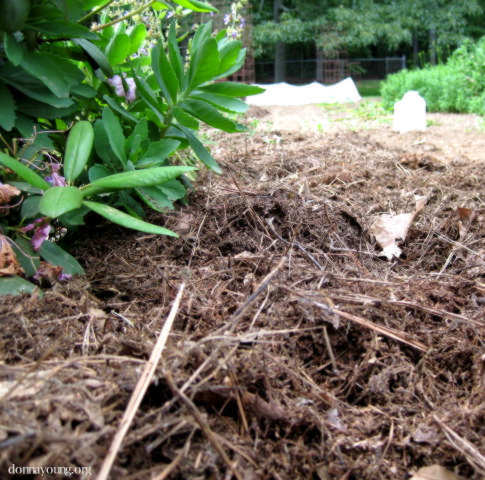 The purposes of organic mulch are:

Suppressing weed growth
Retaining ground moisture
Regulating ground temperature
Most importantly, adding organic matter to your soil
There are more reasons to use organic mulch, such as feeding earthworms, but the four above are the ones that keep me working and hauling the mulch.
I still have most of the garden to mulch. It has been rainy for the past few days and I have not been able to continue mulching, but as soon as I can, I will be back behind the wheelbarrow hauling mulch and spreading it on the garden.
Notes:
I guess this is common sense, but before spreading mulch, cut all weeds down first.
The mulch needs to be of adequate thickness to suppress weed growth. Depending on mulch type, that could be as deep as 4 inches. At this time, the grass/leaves clippings mulch that I have spread is between 2 to 2.5 inches deep. It might have been a little deeper 5 days ago when I first spread it, but it has been flattened a bit by rain.
My tomatoes get at least 3 inches when they are tall enough to handle that. I remove any lower branches from the tomato plants that would be buried when mulched.
Below is a photograph of one of the mulched areas.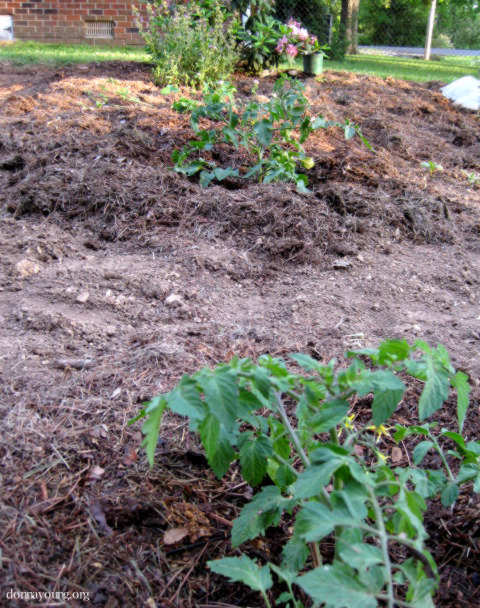 The paths are not mulched yet; paths are the parts that I mulch last because they are less important than mulching plants and because it is hard to push a wheelbarrow over thickly mulched paths.
In the photograph, you can see that my garden is close to my house. The distance is about 14 feet from the house.