Clock Worksheets, Time in the Future or in the Past
These ask the student to tell what time is will be (or was) a certain amount of minutes in the future and in the past.
Clock Worksheets, Future or Past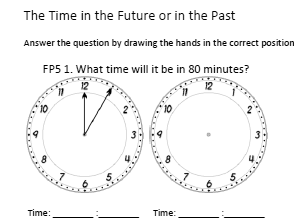 Each worksheet features 16 clock faces, of which eight are blank. The student is to write the time under all of the 16 clock faces. In order to write the time for the blank clock faces, the student must answer the questions posted above the clock faces. Additionally, the student should draw the time on the blank clock faces.
Time in the Future or in the Past

Printing - Grayscale
Because the clocks are reduced images, they might print in color. On my printer, the clock face edges printed in pink. I recommend that you choose grayscale when printing these files.
Related: Printable Clock Face
I recommend printing the clock face on card stock. Supplies and instructions are listed on the file.

Make a Teaching Clock
Instructions are included on the file.