Handwriting Worksheets, Paper, Tips, & Fonts
My handwriting section has several small handwriting sets, one large handwriting set, and one extraordinarily large set. The handwriting lessons are free to print. This section also contains notebook filler and handwriting paper in several sizes and types. I also have handwriting animations in both manuscript and cursive.
Usage Summary
If you are teaching one child or a group of children (or adults) you may print the files to use in your class for your students. I do not restrict how many copies that you may print, as long as you are printing them for your students. If others want to use the resources, please send them to this web site. The full: Terms of Use
Newest Section - By Style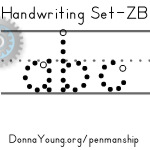 The By Style section is very new, so new that it only has two sets- one very large manuscript handwriting set and one very small cursive handwriting set. The large set, ZB Manuscript is quite large, actually extraordinarily large with over 500 files and each file having two handwriting lessons. Not only that, ZB Manuscript has a complete set of Manuscript Handwriting Animations that include both uppercase and lowercase. The small cursive set has one file per letter and each file has two cursive handwriting lessons. I intend to add more within the year. I apologize for the length of time it takes me to finished some sets. I'm the only person who works here and it is a large website.
Donna Young
Updated September 16, 2014