How to Use the Master/Override Drop-down in the Lesson Planners- Video - 1:03 Minutes
V Planners: V3
Summary as Points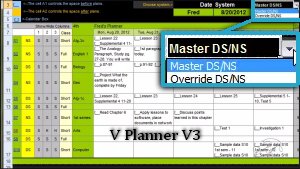 Master/Override is a new feature in V3
Master/Override ultimately controls how lesson plans are fetched from the S-Sheets.
The selection Override DS/NS allows a different DS/NS setting per subject while the top selection controls only the dates shown on the planner.
The selection Master DS/NS causes the top DS/NS selection to control all subjects in the lesson planner with one system.
This video is in HD at YouTube: http://www.youtube.com/watch?v=YnC0l-_Aoew


If the video does not appear, refresh the page. If it never appears no matter how many times you refresh the page, contact Donna via the feedback form
V4 and High School V Planner
V3, V4, and High School V Planner
Questions, Tips
Donna Young