XLS and The V Planner
V Planner 4.2, High School V Planner V4.2, and Homeschool Lesson Planner V4 are ready for use. Download from the Member's area.

This guide is not meant to be a definitive guide to using just any xls file; this guide is written for the V Planner user. The V Planner is an XLS/XLSX file designed for Homeschoolers by Donna Young. I tried to make the file as user-friendly as possible, but there is still the unescapable fact that the V Planner requires the use of MS Excel and some V Planner users might not be familiar with Excel.
The Pages in this Guide
How to Lose V Planner Support
The only reason to alter a worksheet is to fix a bug and when a bug is found, I will post instructions. Part of the instructions is to protect the worksheet after applying the fix and please remember to do that last step. If you alter a worksheet for another reason and if you break it, you are on your own. You will have to download another V Planner, set it up, and then, don't break it.
I know this sounds ominous, but it isn't. The bottom line is if you've made changes to the V Planner that you are using in such a way that alters formulas, and your planner "breaks," then there is no way that I will spent hours trying to figure out what you've done. Most people will not know that they've made formula changes, so please read about what actions can potentially make formula changes and then simply do not do those things.
The following is a list of actions that can result in an unsupported, to varying degrees, V Planner
Inserting Rows - Generally do not insert rows into the worksheets. Inserting rows anywhere among the supported worksheets and except the two sheets listed below will result in a fully unsupported V Planner. Why? Because adding rows can change formulas and, in some cases, it can break some functions.
The two places where row insertion is allowed.
You CAN insert rows at Row 45 in the Transcripts.
You CAN insert rows at Row 100 in COS

Inserting Columns - There are no worksheets into which inserting columns is supported. Inserting columns anywhere among the supported worksheets will result in a fully unsupported V Planner. Why? Because adding columns can change formulas and, in some cases, it can break some functions.

Moving Cells - Moving cells is unsupported. There is a short write up about this at Do not Move Cells. Moving cells might be a temptation in the S-Sheets because you might decide to move lesson plans around, but do not use this method to do that. Moving cells anywhere among the supported worksheets will result in a fully unsupported V Planner. Why? Because moving cells can change formulas and, in some cases, it can break some functions.

Altering Formatting - While you are able to change V Planner's formatting without unprotecting the worksheet, you've changed it and there is nothing that you can do to convince me to fix if for you, even if the results alter Conditional Formatting.
If you are unsure of what conditional formatting is, go to an S-Sheet observe how the colors change in the S-Sheets when using the Dynamic Term Grade Calculator when a different term number is selected. This is one of the things that you will not want to break.

Altering formatting because of pasting - Altered formatting of any kind is unsupported, even when it is altered by mistake from neglecting to choose Match Destination Formatting.

Changing Tab Names - Changing Tab names will break hyperlinks in the planner. This action - changing tab names, is unsupported in that I will not relink the worksheets for you.
Basically, some changes that you make to the V planner can - best case- result in an unbroken and unsupported V Planner, or - worst case - a broken unsupported V Planner. Either way, I reserve the right not to support V Planners that have been altered in such a way that changes the formulas.
Unsupported Worksheets from the Start
Notes worksheet - Notes is not a vital worksheet and you can do anything that you want with it. Notes is not vital to the workings of the V Planner thus, it is not supported.
TermDateCalculator worksheet - Term date calculator is an add-on worksheet. It is not vital to the V Planner's functions, and therefore; it is unsupported.
About worksheet - It's primary purpose is the first landing page upon opening the file and it serves no other purpose beyond pointing you in the right direction in the setup.
Help worksheets - Worksheet that are considered a "help" worksheet are unsupported. There only purpose is to provide information about certain parts of the V Planner. When a V Planner is a brand new version, the help worksheets might or might not yet be fully updated.
Donna Young
Updated
About the V-Planner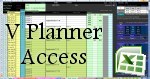 The V Planner is a spreadsheet file in xls and xlsx format. To use the file, you must have Microsoft Excel on your computer. The V Planner is available from YoungMinds web site. YoungMinds is online via a subscription and on Donna Young's Site-CD.