Artist's Paint
I am limited in what I can talk about in this category. Neither of my children were interested in painting enough for me to go out and purchase all sorts of different types of paint. However, they painted, but only during school time. I will talk about some paint for school and show what I have and that would be examples from my work.
Color Theory Class, Tempera or Acrylic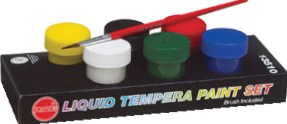 In color theory a student explores and practices mixing paint. You will need 5 colors: red, blue, yellow, white, and black. The paint needs to be high quality in the mixable department. This set, shown on the right, made by Prang has the colors that you need plus green and it claims to be mixable. I differ with the inclusion of green, but have to admit that sometimes green is a hard color to pin down for the novice. This set or something like it, but with larger containers of paint such as the one pictured to the right, would be good for the child who is learning to mix secondary and tertiary colors.
We used liquid acrylic paint for our color theory class and I can tell you that it was a bit difficult for my daughter to work with. To lighten a color took a LOT of white, even to lighten it just a shade. Below is an example of the color scales that my daughter painted with liquid acrylic paint. Or that could be the one that I painted.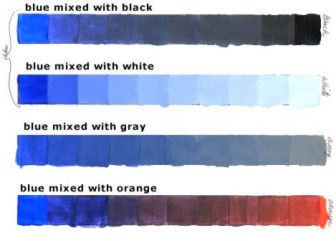 Watercolor Cake in Trays
You will want to purchase the trays with the color cakes for the younger ones because they are cheap, easy to use, even though they can get messy. I've rinsed ours off under running water to clean them. We had a tray for each child plus the double tray that is pictured below. The observant child can inadvertently learn about mixing colors from using watercolors. We all certainly discovered the "murky" color at some point of over-enthusiastic watercolor painting.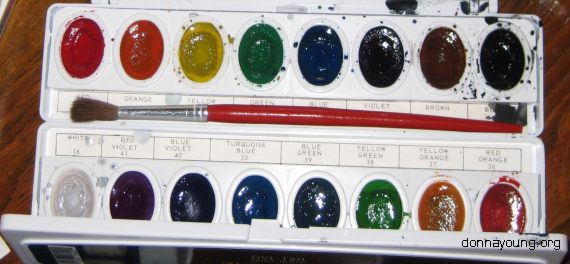 Watercolor in Tubes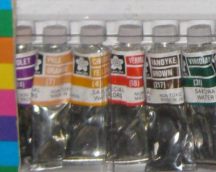 My personal favorite, I've used watercolor tubes for decades. I purchased a set for my children to use, but they used them only for art class. My children are free to use supplies anytime, but they have chosen not to be painters, at least for now.
With the colors in tubes, you can paint in the traditional watercolor way - with washes or you can paint with more detail. If you would like to see some watercolor from a tube examples from a painting that I did in 1984, go here: Watercolor from a Tube
Oils
Because my kids did not display an interest in painting, I did not purchase oils for them. I used to paint with oils and below you can see a picture of my paint. Most of the paint is old. I store my paint in an old tackle box that my husband handed down to me when he got a new one. If you need oil paint for your children, get a kit or go and choose some basic colors. You will also need canvases, a palette, either the paper palette or a washable one. You will need good brushes and a brush conditioner and cleaner; I used Master's Brush Cleaner and Preserver. There are more things to purchase and if you have a painter, then you will find out what you need.