Month on a Page Household Calendar Refill
The Month on a Page calendars offers ruled lines and a calendar that prints on one sheet of paper. There are two styles, read more about them below.
Usage: The files are PDF, open and print them. Hole punch them and place them in your household notebook.
Donna Young
Notes and Bills - Month on a Page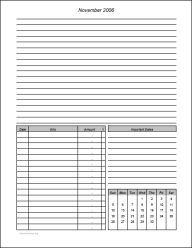 Notes and Bills feature a small calendar and places for your notes, bills, and important dates. Sample File
Printing Notes and Bills - Month on a Page
These calendars are included with the Basic Subscription or YoungMinds. Alternatively, Month-on-a-Page, and possibly other organizers, may be purchased from the shopping cart. These items are listed in the organizers category: Organizers.
List Top - Month on a Page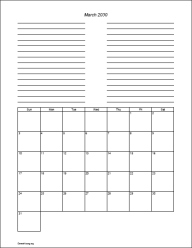 List Top features two lists above a block calendar.