Donna's Small Desk Calendar
Even though I can look at my computer's calendar, I still use this sort of calendar on my desk. It sits right under my computer monitor.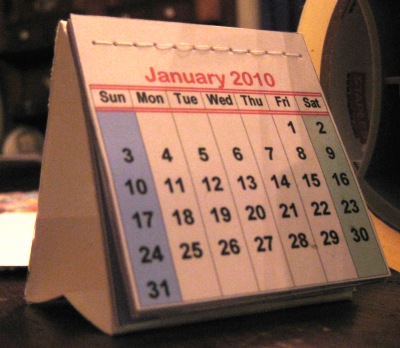 I had to make one this year. Typically I add a stand to a small commercial calendar, the kind the drugstores give away to their customers, but I did not get one this year. First I tried cutting up one on my notebook calendars and making one from that, but after using it a couple of days, I realized that the numbers are too small and so I made this calendar, the one pictured here.
If you want to make one for your desk or if you just want the small months to glue to something, you may print the calendar from the files linked below and then visit the other pages to see how I made the calendar.
The Files
Basic Instructions
Choose a year
Print
Cut out each month along the lines [Small Desk Calendar—Cut & Stack ]
Stack the months in order
If making a stand: Place on a strip of card-stock
Sew or staple [Small Desk Calendar—Sewing the Months to the Card]
Fold remaining card stock to make the stand [Small Desk Calendar—Folding the Stand]
Supplies for Small Desk Calendar
A year printed on a piece of paper [files above]
Card-weight paper for stand [at least 2 3/8" x 8 1/2 " in size]
Scissors
Glue
Tape
Either a stapler with staples or a sewing machine with matching thread and a heavy duty needle
Ruler and maybe a pencil