Personal Calendars
Personal calendars can be used to record information such as health issues, appointments, activities, birthdays, etc... and now for my oddest personal calendar, which is a bit more like a one-liner journal. The Fragmentary Account by yours truly- Donna Young.
Donna Young
Fragmentary Account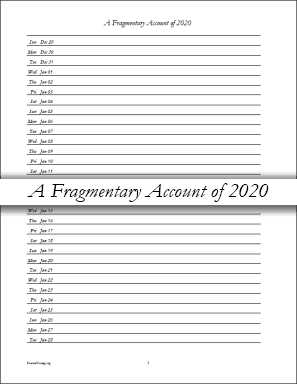 A Fragmentary Account of [Year] is a 12 page calendar that is ruled and each line begins with a date. On the line you should write something in short about the day.
Themes
Keep track of things such as
The Weather
Garden Events
How you feel that day
Health
What you ate
What you read that day
What you cooked
etc.
Instructions: Print on nice quality paper and use it daily.
A Fragmentary Account uses 6 sheets of paper if pages are printed on both sides, or 12 sheets if the back is left blank. Or 12 if one side is A Fragmentary Account and the other side is a matching ruled paper. The matching ruled paper is described below.
A Fragmentary Account is new and when available on the Site-CD , it will have the years Current through 2025 on YoungMinds CD-ROM. This calendar is a new item as of January 2010. Donna Young, January 2010
Files for A Fragmentary Account
Choose a Year: 2021 | 2022 | 2023
Optional Ruled Paper for A Fragmentary Account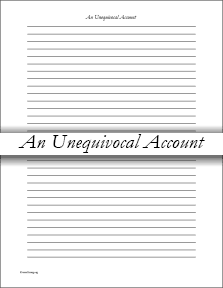 I made Ruled Backs with a few Header Choices for A Fragmentary Account. If you believe that you will have more to say about a day or a few days and many of us do, then choose one of the backs to print on the back of the Fragmentary Account pages. Additionally, you may print any of these ruled files back to back to use as filler for your Fragmentary Account "Diary". There are six choices based on the Header.
1. A Broad Account
2. An Explicit Account
3. An Unambiguous Account
4. An Unequivocal Account
5. An Addendum to A Fragmentary Account
6. An Addendum to A Fragmentary Account - with flourish at bottom of page
See Also These Calendars and Journals
Other calendar styles and journals at donnayoung.org can be used as a personal journal. I'm going to list some below.
And there are two more calendar styles listed in the right sidebar -->