Learning Curve Pro Dashed BV
Learning Curve Pro Dashed BV
A cursive font with connecting letters. The font has both dotted and solid letters.
Made by: Blue Vinyl
Freeware, see Readme text in download
Note: The designer does not recommend this font for teaching handwriting.
Learning Curve Pro can be downloaded from designer's web site at: Blue Vinyl
Type learning curve in search field.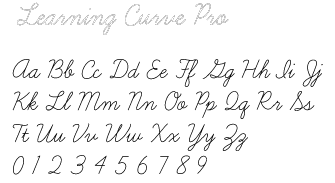 Some of my cursive handwriting worksheets use an earlier version of this font and it was called LearningCurvedashed. In the older version, the letters did not connect.