Manuscript Handwiting Lessons Using Small Print
The small print handwriting lessons are for children who have learned to write letters and now need to practice writing smaller. The letters are made small in the lessons. I used two different letter styles in the worksheets sets.
D-Style

There are two pages that use D-Style letters and they are: Small Print Pre-Cursive Handwriting Practice and George Washington's Rules of Civility Manuscript Handwriting Lessons
font: PrecursiveNewDashed
Z-Style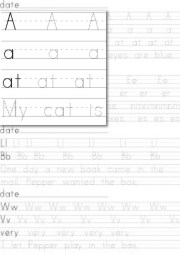 The worksheets that use Z-Style are on the page: Small Print Manuscript Handwriting Lessons
font: Print Clearly
Small Print Printables
Each worksheet contains either 2 or 4 short practice sessions/lessons. The lessons consist of tracing and sentence writing as well as writing letters or numbers on their own.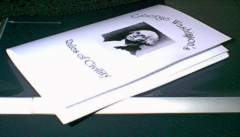 While I have the Rules of Civility Booklet linked here, it is not actually a handwriting exercise. It is copy work. On the left hand side each spread, I have listed several rules from George Washington's Rules of Decent Behavior. On the right side of the 2-page spread is ruled paper where the student is supposed to copy some or all of the rules in his or her best handwriting.
Updated July 14, 2011, Donna Young