Light Blue School Calendar
The Light Blue School Calendar is a 12-month calendar and start at these months: January, June, July, August, and September.
Light Blue Calendars may be printed with a subscription or you may purchase the July or the August calendar from the shopping cart.
Photograph of Printed Light Blue School Calendar
Files - Light Blue Calendar
---
Donna Young, page updated for the year 2020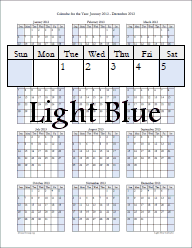 The Light Blue Calendar is an updated version of the Blue Calendar with a lighter shade of blue, finer lines, and the font is Garamond. The header reads, "Calendar for the Year: Month Year - Month Year". "Month Year" is replaced with the month and year that is on the file.
Elsewhere at Donna Young's Website