I have been asked many times, "Can I type on the PDF forms?" The answer is yes, but only if the pdf file is made to be typed on. Today's update is all about seven new PDF forms which can be typed on. The forms are scattered about in the Homeschool Forms section of DonnaYoung.org. For your convenience, here is a list of pages where you can find the typeable pdf forms.
Adobe READER will (might) not save what you type! The typeable pdf's are meant to be printed. Do not consider using the typeable pdf's as a running document UNLESS you have Adobe Acrobat.
The next file is a basic log or a journal. It contains 3 fields, a title field, a subtitle field, and the large field for the body. It is basically blank.
The next two type-able PDF's are another type of log. All options are open to you with these two logs. Typically they were used as a field trip log in the original version, however, I removed the header. These logs can be used for any type of record which will work with the table arrangement on these forms. Here is an image of the 2-column log: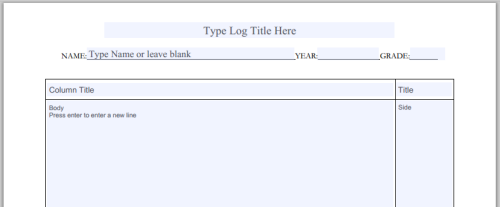 2-Column Log and 2-x_Column Log: Outside Activities
– These files was previously removed from DonnaYoung.org, but I brought them back.

Lastly, at Homeschool High School Diploma Forms you will find a couple of typeable high school diploma pdf files.
This page was updated by Donna Young on May 31, 2014.