Homeschoolers are Busy People
Use these basic forms to record outside activities whether they are personal, homeschool meetings, or field trips.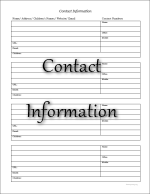 Keep the phone numbers, email addresses, URL's, and children names of the homeschoolers you meet.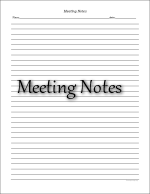 Take notes of your homeschool meetings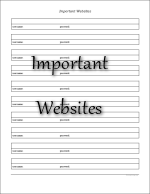 A simple form that you can use to record website URL's, user names and passwords. This form is not meant to leave your home. It is best to file this one in a safe place.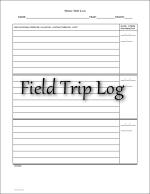 Use to keep a record of your field trips. This file is from the Homeschool Portfolio Lesson Planner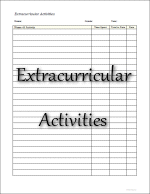 Extracurricular Activities


Doc

Rtf
(color) This form is meant to be used for any sort of activity that can be called extracurricular. Use it to keep track of hours spent on activities. This file is from the Garamond Collection, a Homeschool Planner
Typeable PDF Forms

Log

This form is a basic log with 2 columns. You decide how to use this log and what to type in the headers.[Blogged]

Log x

This form is similar to the one above except it includes a 3rd column for an X.[Blogged]

Regarding the Typeable PDF file above; I make not guarantees regarding the usability of the file. If the file does not work as expected, then it just doesn't work and I cannot help with that. My advise - Before devoting any time with the file, type some sample text in it, save the file, close the file, and then open the file again to see if the sample text is still there. If it isn't, then this file would serve only as a type-then-print sort of file.
Hello Visitor!
I am currently working on this website to add to its ginormousness. Thank you for visiting, and please subscribe yearly to access my many printable files! Donna Young
May 13, 2021