Words in Alphabetical Order
Understanding and being able to sort words in alphabetical order is a very important skill. Make sure that your children learns how to do this. They should have lessons devoted to alphabetical order until they master it. Throughout their schooling years and beyond, they will use this skill.
This web page primarily offers printables. A lessons guide for using the cards is at: Lessons.
Cut and Paste Words
The handouts below instruct the child to write the letters of the alphabet across the top of the page. The lower part of the page consists of words that the child is to cut out and arrange in alphabetical order. Then the child is to glue the words in the blocks on the paper in alphabetical order. Handouts 1 and 2 practice alphabetical order to the first letter, handouts 3-5 practice to the second letter and 6 and 7 practice to the third letter.
Word Cards
Once your child can put letters in alphabetical order then the next step is to put words in alphabetical order.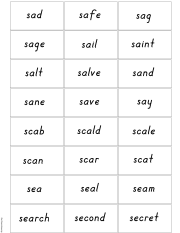 a-z except i & k
all, ban, cut, doll, ear, far, gut, hot, jar, lot, map, nun, oats, pop, quit, ran, son, top, up, vine, won, x-ray, you, zip

a-l
ant, are, any, bat, ball, boy, car, can, dog, dig, eat, eel, fan, fit, get, go, hi, hut, it, in, joy, June, kit, lit

a-f
air, all, be, bee, bug, bull, came, case, cat, code, coy, cry, deal, dial, diet, easy, elf, end, fair, fall, fell, flat, fix, fin

f-j
fizz, goat, gift, gab, gaze, glob, glare, glee, glove, hair, hare, hat, hub, half, hay, hang, hand, handy, happy, happen, hazy, ice, jab, July

j-k
junk, just, jute, jury, join, jolt, job, jump, jungle, judo, juice, jelly, king, kite, kilo, kick, knob, knot, know, knife, knight, knee, kneel, knit

s words
sad, safe, sag, sage, sail, saint, salt, salve, sand, sane, save, say, scab, scald, scale, scan, scar, seat, sea, seal, seam, search, second, secret
Sorting Worksheet
The worksheet has 20 squares for 20 cards. Using this worksheet is optional. To use the worksheet, select 20 cards based on the student's level. Hand the student 20 cards and instruct him to place the cards in alphabetical order on the worksheet. Decide whether the order of the cards will be placed across (in rows) or down (in columns) and tell the student.

Sorting Worksheet with Alphabet


Sorting Worksheet without Alphabet

odt format opens in Open Office Writer.
Word Card Blank Templates
The templates below are in

doc,

odt, and

pdf formats.

3x8-card-blank


4x8-card-blank


3x8-card-blank [Open Office Writer format]


4x8-card-blank [Open Office Writer format]


3x8-card-blank - squares measure approximately 1 1/8" by 2 1/4"


4x8-card-blank - squares measure approximately 1 1/8" by 1 5/8"
Using the Blank Cards Printable
It is common practice with some that a child puts his spelling words in alphabetical order. You can use the blank printable for this purpose. The blank cards printable has 24 squares on which you or your child can write spelling words, then cut them out and arrange them in alphabetical order.
In addition , you may use the blank printable to create cards with words of your choosing.
Hello Visitor!
I am currently working on this website to add to its ginormousness. Thank you for visiting, and please subscribe yearly to access my many printable files! Donna Young
May 13, 2021