History Themes
Edit: This paragraph no longer applies -> The printable handwriting paper on this page has images from history combined with cursive handwriting lines. The image below and to the right shows the approximate height of the cursive rule [approx. 5/16th's of an inch].
Ruled President Paper
Ruled president paper has a basic rule of around 8mm or 5/16 inch. Each one has a photograph of a USA president. The paper has two styles and the only difference between the two styles is that one has numbered rule. I did that for your grading purposes so that you can reference a line on the paper. Now you know.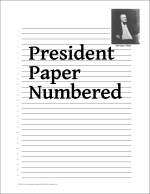 The Rest of the History Theme Paper
The old history themed paper has been removed because it no longer prints the way it is supposed to print.
Donna Young
July 17, 2011
Hello Visitor!
I am currently working on this website to add to its ginormousness. Thank you for visiting, and please subscribe yearly to access my many printable files! Donna Young
May 13, 2021
History Related at DonnaYoung.org
Maps USA map paper and Matching Blank Top
Related at DonnaYoung.org
I have a few specialized notebook fillers scattered in the different parts of donnayoung.org.
In Language Arts
I designed this notebook filler for my daughter to use in her composition classes. She writes in the left area and I use the two right margins for noting the number of errors, correction marks, and comments.


Composition
Donna Young